Thomas Merton Society of Canada events, please contact Judith Hardcastle, Program Director or Susan Cowan, Community Relations Director.
For more information:

604-988-8835 or email tmsc@telus.net.
Click here for 2021 Membership Brochure available here. JOIN TODAY!

---
2021 EVENTS
---

Centre for Christian Engagement Fall Lecture Series
October 1, 2021 at 7:00pm PST
St. Mark's College at UBC
Register here (there are in-person and livestream options available)

In this free talk After Kamloops, The Flood, Dr. Michael W. Higgins will consider various questions that arise as Canada and the Catholic Church face a crisis of conscience over the history of reisdential schools and their corrosive legacy. One of them concerns the Catholic Intellectual Tradition and its contribution in a time of painful reflection and oral reparation. Two prophetic figures who represent the best of the CIT can help us navigate this tremulous time of soul-searching: Thomas Merton and John Moriarty.

Dr. Michael W. Higgins, President and Vice Chancellor, Corpus Christi College & St. Mark's College at the University of British Columbia, is the author of numerous books and has been an influential commentator on the Roman Catholic Church on television and in newspapers for decades. He will address the painful history of Canada's residential schools and the recent revelations that began with the discovery in Kamloops of the unmarked graves of many children.
---
Check out this book of essays by Canadian writers.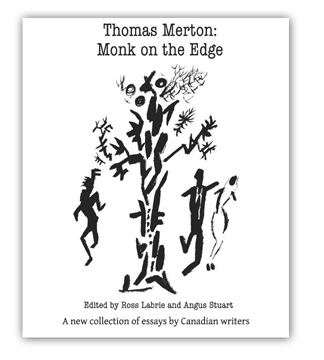 The Thomas Merton Society of Canada has published a book of essays about this internationally acclaimed writer. The book is distinctive and original in that it represents the work of Canadian scholars, many of whom have significant publishing records of their own. These scholars, who have been publishing books and artticles over the years in North America and in the U.K., here offer varied and provocative views of Merton as contemplative, social critic, and poet. Merton is recognized as one of the most important religious thinkers of the last hundred years. The book which is entitled Thornas Merton: Monk on the Edge and which runs approximately 200 pages, is modestly priced at $25.00 (CDN)
Available from: Thomas Merton Society of Canada
1044 St. George's Avenue
North Vancouver BC V7L 3H6