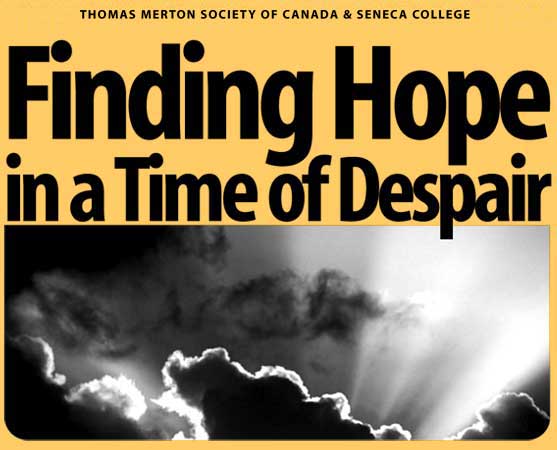 Friday, April 27, 2007 – 7:30 pm
Saturday, April 28 – 9 am - 5 pm

Seneca College Conference Centre
1760 Finch Avenue East, Toronto, Ontario
Cost: $60.00 (lunch included) / $15 Fri. evening; $30 Sat. morning only;
$30 Sat. afternoon only.
Sponsored by the Thomas Merton Society of Canada & Seneca College
In a time of increasing global tension, violence, poverty and destruction of the planet, how can people avoid despair, find hope and take action? The conference will respond to this challenge through engaging the legacy of prophetic American thinker, writer and social critic Thomas Merton – a Trappist monk whose ideas are still making waves 38 years after his death.
The Thomas Merton Society of Canada and Seneca College will co-sponsor Finding Hope in a Time of Despair to focus on ways that Merton's ideas apply to contemporary issues. The conference, which is open to the public, will encourage action for peace and interfaith dialogue. It features nine concurrent sessions, all attempting to engage the thought of Thomas Merton: contemporary social psychology (Ann Gelsheimer, Toronto), media ethics (Joe Marren, Buffalo, NY), Ernest Becker and social illusions (Bernie Meyer, Tacoma, WA), abstract art (Paul Pearson, Louisville, KY), the power of images to harm and heal (Clyo Beck, London, ON), wisdom and prophecy (Patrick O'Connell, Erie, PA), a theology of encounter (John Porter, Hamilton, ON), the generative power of nature (Monica Weis, Rochester, NY), and Merton's Cold War Letters (Christine Bochen, Rochester, NY). O'Connell and Bochen are both former presidents of the International Thomas Merton Society, and Pearson is the current president.
Plenary speaker Donald Grayston, an Anglican priest and former teacher of religious studies at Simon Fraser University, notes that Merton was an outspoken social critic who tackled many of the same issues we face today. "His generation faced the nuclear arms issue head on, including the Cuban missile crisis, which put the world on the brink of nuclear war. As a peace activist, he also strongly opposed the Vietnam War. Yet in difficult times, Merton believed deeply in a firmly grounded hope – he saw it as an antidote to despair and inaction."
"Today", says Grayston, "we're seeing social atomization as society dissolves into smaller and smaller units. It's easy to feel isolated and helpless when it comes to the big issues." He sees a partial solution in building 'intermediate communities' – groups that can mediate between the apparent powerlessness of the individual and the enormous power of the state. These could be church, mosque or temple-based groups, or other organizations aimed at peace, human rights or protecting the environment. And in the age of electronica, where people can easily insulate themselves from reality, Grayston sees the internet as a tool to combat social atomization.
"Thomas Merton would have loved the internet," said Grayston. "Though he was a monk and a contemplative, he was also connected to a large network of key people around the world. In striving for peace and understanding based on Christian principles, he helped open our hearts and minds to other religions and cultures as well. He was such a good communicator, and his influence would have been even greater had he lived today."
Information/registration: tmsc@telus.net or 604-669-2546